Renewable Energy
Technologies that generate electricity from the sun, wind and biomass provide reliable power while conserving resources and helping to keep our air clean. New Jersey is fast becoming a national leader in the use of renewable energy systems, particularly in the area of solar energy. NJNG is proud to support New Jersey in its goal to produce 20 percent of the state's electricity from renewable energy sources by 2020.
We encourage you to consider the benefits of these technologies for your home and business. In addition to the information below, you can learn more by visiting New Jersey's Clean Energy Program Web site. It's a resource that offers support and incentives for installing renewable energy technologies, including photovoltaic cells, small wind and sustainable biomass equipment. You can also find information about the New Jersey CleanPower Choice Program, which allows you to support renewable energy without putting any equipment on your home or at your business. 

New Jersey CleanPower Choice
CleanPower Choice, brought to you by the New Jersey Board of Public Utilities' Office of Clean Energy, is a simple way for you to choose renewable sources of energy such as wind power, solar, low-impact, small hydro power or landfill gas power. This clean electricity is good for the environment, the climate and New Jersey.

NJNG purchases 100 percent of its electric needs through CleanPower Choice offsetting all our emissions from electricity. We urge you to join us in our efforts as we Conserve to Preserve®. Each household that participates in the New Jersey CleanPower Choice Program can avoid carbon dioxide emissions of over 10,000 pounds per year, which is equivalent to planting 1.35 acres of trees.
Signing up is easy! Just go to the CleanPower Choice Web site, or call 866-NJSMART at any time. Nothing has to be installed. You still call your current electric company with questions about your regular electric service and the only thing that changes is that more renewable energy sources are used to meet New Jersey's needs. Your cost will vary based on the CleanPower supplier you choose and your usage shown on your bill.* You'll still receive only one bill from your electric company and your CleanPower purchase will show as a separate line.

*The CleanPower Choice Program is designed for electric company customers only. If you choose to enroll, the additional charges will appear on your electric bill, NOT on your NJNG bill.
Photovoltaic Energy
Photovoltaic solar cells (PV) convert sunlight directly into electricity without moving, making noise or polluting. When sunlight strikes the PV cell, chemical reactions release electrons that generate an electric current. The simplest cells power things like watches and calculators, while more complex systems can light homes and businesses and provide power to the electric grid. Photovoltaic solar cells can be purchased in two formats for use in homes and other buildings. One design is a stand-alone module that is attached to your roof or on a separate system. The other format uses PV integrated in roofing materials.

PV installation information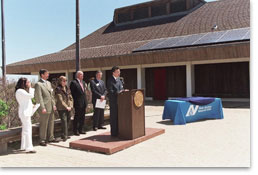 NJNG Helps Bring Solar Energy to Island Beach State Park
As part of an ongoing commitment to energy efficiency and renewable energy sources, NJNG spearheaded a project to bring solar energy to Island Beach State Park. Through a partnership with the New Jersey Board of Public Utilities (BPU), New Jersey Department of Environmental Protection, GeoGenix and other solar companies, a 10 kilowatt (kW) PV system was installed on the roof of Bathhouse Pavilion One at the park. The PV system will produce electricity to heat water for showers and sinks at the pavilion while generating approximately 11,055 kilowatt-hours (kWh) each year and reducing electric consumption at the park by 28 percent.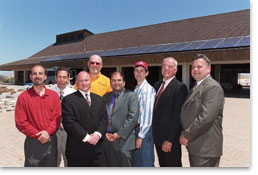 A grant from New Jersey's Clean Energy Program through the BPU provided 70 percent of the cost of the PV system and its installation, and NJNG funded the balance. GeoGenix contributed engineering, labor costs and a data acquisition system that tracks the amount of electricity generated by the PV system on a display located inside the bathhouse. Other labor costs to install the system were donated by Absolutely Energized, Bald Eagle Solar Technology, LBI Solar and Sea Bright Solar.
On your next visit to Island Beach State Park, make sure to stop by and see renewable energy in action. With a million visitors enjoying the park each year, there is no better place to demonstrate support for New Jersey's renewable energy initiatives.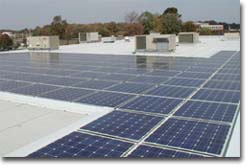 NJNG Installs PV System
In support of New Jersey's goal to increase renewable energy sources, NJNG installed a 20 kW PV system at our William L. Maude Service Center in Wall. By converting solar energy into electricity, the PV rooftop panel system is expected to generate about 25,800 kWh each year. That equals approximately 9 percent of the facility's electricity needs.
Neptune Home Saves Energy With Solar Panels
Through a partnership with Interfaith Neighbors Inc., NJNG dedicated a new home to a Neptune family complete with a 2 kW PV system. The rooftop panels help to power heating, cooling, lighting and other electrical appliances and will result in a 25 percent savings on the home's total electric bill. The system can produce up to 2 kW of power per peak daylight hour and annually generate approximately 2,400 kWh. NJNG's support for increasing reliance on solar panels reflects the benefits of on-site power generation.

For additional information on PV systems installation and incentives for your home or business, visit New Jersey's Clean Energy Program Web site.
Wind Energy
The wind can be used as a fuel source that turns wind turbines to create electricity. Similar to a propeller on an airplane, the blades of a turbine are shaped so moving air will pressure them to move in one direction. The blades are connected to a shaft, which in turn is connected to an electrical generator. The mechanical energy of the turning blades is then changed into electricity. There are systems available for both residential and commercial installations.
Biomass Energy
Biomass consists of plants, animal wastes or any derived organic matter available on a renewable basis. It is obtained primarily from harvesting and processing agricultural and forestry crops. Through direct-combustion technology, the biomass is used to produce heat to create steam to turn turbines that produce electricity.